Who is this team and what did they do to the Rapids? This squad showed more heart and fire in their play tonight than we've seen out of the burgandy and blue lads in quite some time!
Colorado started in a 4-4-2 tonight after weeks of speculation that they would, dating back to the Kansas City game. Former Quakes player Quincy Amarikwa started at striker with Omar Cummings, Conor Casey didn't dress today as his head continued to bother him. Outside midfielder Colin Clark had the first real chance of the game for the Rapids as he rang a sliding dive-shot into the woodwork, Omar Cummings had a near-miss shortly after that.
The Rapids scored as Jon Busch took a pass off of Omar Cummings in the 25th minute and... well, remember this?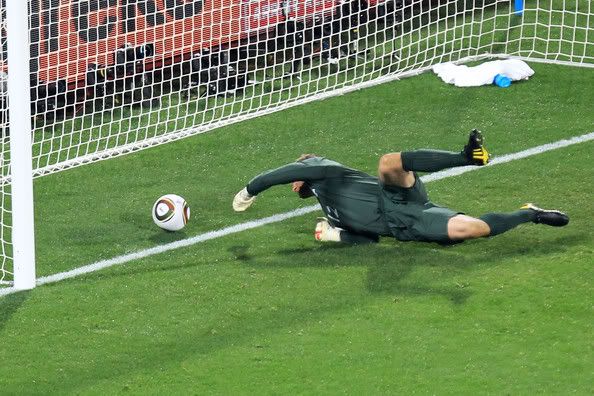 Pretty much that all over again, this time by Busch. The entire supporters terrace chanting
"We all just want another Robert Green"
to the tune of Yellow Submarine was a hilarious cherry on the top. That would turn out to be the only goal as the Rapids defense did an impression of themselves earlier in the season, holding San Jose to very few shots and even fewer going anywhere near Matt Pickens, who earned his first clean sheet since way back in June.
The biggest - and really only - lowlight of the game was starting midfielder Colin Clark getting knocked down with what looked like a potentially serious knee injury. He gave a clap to the crowd as he was being carted off, frustration and sadness in his eyes. Poor guy can't catch a break, get better soon Colin!
Man of the Match: Omar Cummings. Yeah, I should have gone for the Busch joke but I only put Rapids players here! Omar had the goal (technically) and was in great position to make plays and good shots all night. Way to keep the striker position dangerous out there, Omar.
Goat of the Match: Quincy Amarikwa. Everyone played well today, but Quincy seemed out of position, slow and indecisive with the ball on his foot until he was subbed for Claudio Lopez late in the game. Still, nobody really deserves to be a Goat when the team plays this well. Even Quincy with his fairly shoddy play managed a couple of neat passes now and then.